Your partner in securing your premises with the latest technology!
As the leading security system company, Hitech Monitoring System has brought a revolution in the security system industry by upgrading its equipment and supplying the top-notch security services. We have maintained the highest quality of our security solutions, along with delivering the finest products to our customers.
Utilization of innovative and latest technology has allowed us to serve a variety of industries and become their one-stop solution for security needs and requirements. With a trained and professional staff, HTMS is operating with a commitment to developing a thorough, unparalleled, and infallible security services like CCTV camera supply and installation.
We design, supply, install, troubleshot, and maintain
CCTV, Door Access System, Network Cabling Services, Flap Barrier, Auto Gate, Barrier Gate, and Bio-metric Fingerprint Door Access System
JOHOR BAHRU, KUALA LUMPUR, SINGAPORE and MELBOURNE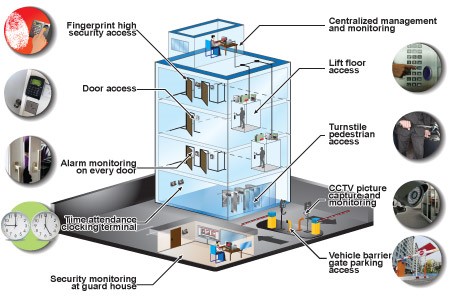 Mission
We want to be the pioneer of an exceptional service provider in the security system industry. Our objectives include the provision of highest-level security to our customers while acquiring the latest technology solutions to bring innovation in our services and products.
Vision
We envision ourselves to be the greatest security service provider for the protection of our customers.
Our Commitment
Organizations thrive with their customers' satisfaction and constant growth. We commit to the following key points to meet our customers' needs:
24/7 Customer Support
We facilitate our customers 24/7 with instant support and aid. Our trained staff and technicians are ever readyto serve our valuable customers. Contact us whenever you find yourself stuck or for any query, we will get back to you as soon as possible.
Reliable And Professional Services
Everything about our company depends on trust, honesty, reliability and professional services. Our security system company has served various customers and plans to widen its horizon with beneficial and effective operations.
Budget-Friendly
Our customers' protection is our utmost priority. That is why we will always offer our security solution at an affordable cost. Our company believe in maintaining strong business relationships, and for that provision of valuable services at reasonable rates is significant.
Innovative Technology
We stand out amongst the security system companies due to the usage of the innovative and latest technology and devices. With our growth and development, we see the security and safety of our customers and their assets. We aim to keep investing in levelling up our high-tech equipment.
Exceptional Services
As a security system company, it is our purpose to offer high-quality services to our customers. We aim to set and keep the highest standard of our products and resources. Moreover, all the provided services will suit and fulfil the demands and requirements of different requirements.
Integrity
Transparency is crucial for long-term business relationships. That is why we abide by the ethical standards and make our deals with integrity to keep the moral values high. Being honest and upfront is our motto, and we try to bring favourable outcomes for our company as well as our customers. 
Overall Completed projects
At Hitech Monitoring System, we offer safe and secure installation and long-term maintenance of security systems at homes and industries across the city. Upholding the highest quality of service, we have been serving across Johor, since 1997 and have successfully increased our clientele since then. We guarantee that our security solutions are unmatchable. All our systems are being tested for the best quality by our R&D department before adding into our product line. From customer service to the on-ground engineering team, all our employees are experts in their field and understand the significance of customer satisfaction. We believe in going the extra mile to understand your requirements from us so that we can do everything to meet your expectation from us. Your satisfaction is pinnacle to our business. Our testimonials speak for our emphasis on making sure every customer is 100% satisfied with our quality of product and service.