Plc Programming
Industrial automation and manufacturing are based on PLC programming or we can say that the progress of industry is dependent upon ease of programming so if any fault arises it must be resolved right away otherwise the industry will be at loss. To resolve, maintain, or monitor a PLC issue, you need programmers with the right knowledge and experience.
Hitech monitoring systems have skilled technicians who design, repair and maintain PLC systems. We ensure efficient solutions to programming problems so you can keep up with your deadlines.
What is PLC?
PLC or Programmable logic controller is a program that Works by automating various industrial processes and other activities that require precision and fault analysis. In other words, PLC monitors input devices and makes logical decisions to control the output devices. PLC programs are customized for each industry depending upon their needs.
Programming is done in various languages and each language has its pros and cons.
Benefits of PLC automation
Today automation has become a huge part of our life, almost everything we see around us is automated, from industrial machines to home appliances. Programmable logic controllers are behind all automated applications. For instance, the manufacturers rely on PLC Programming to determine and automate their production operations. Today everything you do involves automation
that's why it has become so important to understand PLC.
Increased Reliability
Since automation eliminates the need for human operators it means that the product will be delivered with high precision and consistency.
Better Understanding
The plc system will collect and retain the data of all your processes. It will help you in making informed decisions and optimizing processes.
Low Operating Cost
The automated process cut the staffing needs and increase production. Moreover, the system will detect when the machine isn't working efficiently so you can get it monitored before time which will save you from additional repairing costs.
Tough And Flexible
These systems are specially designed to work in harsh industrial conditions which makes them highly durable and tough. Moreover, these systems are designed to run multiple machines that are carrying different processes.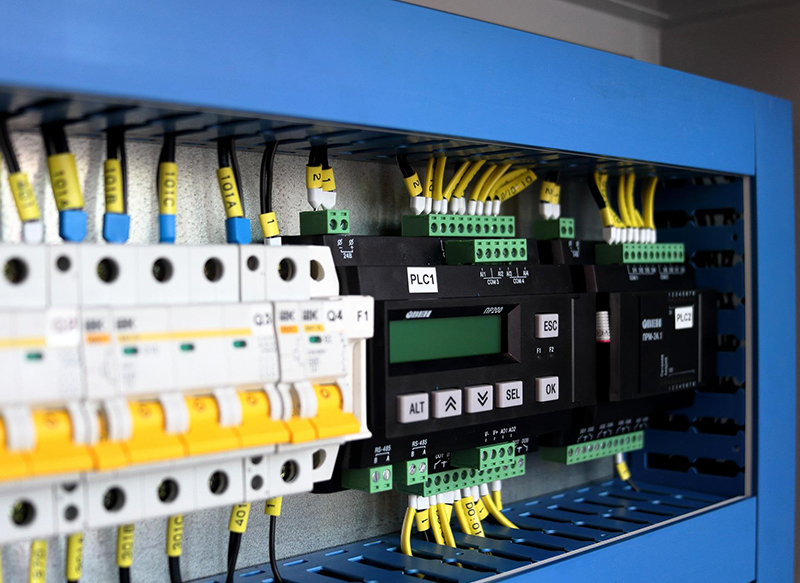 Why Do You Need A Professional PLC Programmer?
PLC programmers play an extremely critical role in the world of PLCs. From troubleshooting technical glitches to creating practical solutions on time, the responsibilities of a programming developer are extended. They provide you support whenever you need it and ensure the development, growth, and success of your industry by monitoring every single detail of well-executed industrial automation. The programmers will monitor, Design, install, test, and debug machine systems around your industry so they work smoothly.
HTMS understands your needs and provides you with customer-based solutions and programs so you can improve your services. Our programmers will travel wherever your company may require.
Hire The Best PLC Programming Developers
If you want to stay competitive in the rapidly growing industry of automation, then you need the support of professional PLC technicians. Know that even a slight mistake in programming will result in a huge loss for your company so always be careful while choosing the PLC programmers.
Are you looking for the best PLC programming Support in Malaysia? Don't worry; you have come to the right place. Hitech Monitoring system is a one-stop solution for your PLC needs. Whether you need help with the entire PLC system or a specific programming problem, our technicians have got you covered. We can handle multiple projects at a time, provide Technical Support to your teammates, and develop backups in case of emergency.
Get in touch with us today and allow us to take your company to the next level with our support and services you didn't know you needed.